hai friends,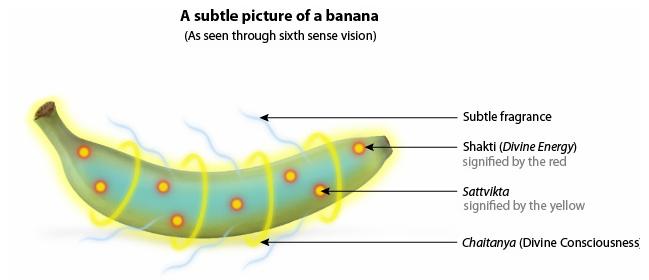 Food at a subtle level, it too is made up of the sattva, raja and tama components.
The proportions of these subtle components vary depending on the type of food.
Sattva stands for purity and knowledge while tama denotes ignorance and inertia.
Anything that has a higher sattva component assists our spiritual journey and anything that is tama predominant has a tendency to diminish or obstruct our spiritual practice.
Vegetarian food has more sattvic qualities than Non-vegetarian food while Non-vegetarian food has more Tamasic qualities than Vegetarian food.
The reason for the increased tama in non-vegetarian food is because of the extent of suffering of the animal, when it is being killed.
Also the thoughts of anger and revenge and pain in the animal when being killed are far more pronounced as compared to a plant which has a rudimentary mind and intellect.
This is the main reason in the increased tama component.
While due to the higher sattvikta in fruits they are offered to God is ritualistic worship.
When tama predominant food is ingested on a regular basis the body is burdened with an excess of the tama component.
A rise in tama component in a person has many negative side-effects.
This tama component can only disintegrate if one is regularly doing spiritual practice.
However since most people do not do spiritual practice this tama component accumulates in a person's body, mind and intellect.
thanks and love
vj